Stock
Management
Ensuring a consistent supply for fast delivery…
An essential part of a successful workwear and PPE supply relationship relies on the availability of stock and the time frame for delivery.
Clad forecasts stock levels up to 12 months in advance, regularly reviewing usage against stock levels in order to secure the right products at the right time and price.
Our UK distribution centre holds vast quantities of stock ready for immediate dispatch on next-day delivery*.
We have also developed systems for dual sourcing a lot of our regular core clothing lines to ensure that our customers are not let down by availability issues from any one manufacturer, while still ensuring a consistency of quality and product.
[one_half valign="top" animation="none"]
We understand that a delay in the supply chain and any resultant workforce downtime can have a massive impact on a company's resources and schedule, particularly when concerning time sensitive projects. Clad aims for complete transparency on our capabilities of delivering the right kit at the right time, so that we can fully meet and often exceed your expectations throughout our working relationship.
As part of our on-boarding process and account management, we will discuss your dedicated range with you in detail, including the production time of any logos or branding you have decided to include on your garments. We will advise if we anticipate there may be availability issues with particular lines which you have chosen and any impact this may have on lead-times, so you always know exactly what to expect from your workwear and PPE program.
Then we deliver on that agreement.
[/one_half] [one_half_last valign="top" animation="none"]
[/one_half_last]
Dedicated
Stock Agreements
Reducing your own stock holding and creating space in your storeroom…
In addition to our general stock management we also offer Dedicated Stock Agreements (DSAs).
This facility ensures we hold what you need, for when you need it, and reduces lead-times on items specific to your range.
[one_half valign="top" animation="none"]
Our DSA's deliver:
Agreed stock levels of your chosen products ready for fast distribution, directly to your user
This includes pre-logoed items which are also delivered next-day anywhere in the UK
Can be agreed for all of your dedicated range, or just your most purchased/essential items where immediate availability is key to your workforce's productivity
Monthly usage reviews ensure appropriate buffer levels are maintained and preventing stock-outs
Orders are invoiced on despatch, to avoid your finances being tied up in workwear and PPE stock not currently in use
Ideal for use with our Clad Serve online ordering system, ensuring your buyers and wearers are directed to your chosen stocked products, reducing wastage and unauthorised purchasing outside of your agreed range
Guaranteed availability and next-day delivery* on agreed lines and stock levels.
For more information on our DSA scheme, contact your account manager or call us on 0800 161 3661.
[/one_half] [one_half_last valign="top" animation="none"]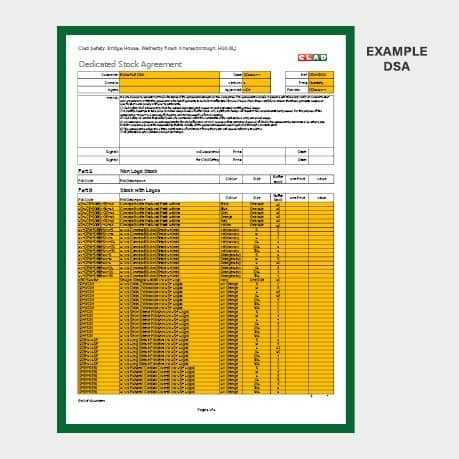 [/one_half_last]