What is an Arc Flash?
An Arc flash is an electrical explosion or discharge following a connection through air to ground or another voltage phase in an electrical system. Temperatures at the source of an arc flash can reach up to 20,000 °C meaning it is one of the most serious electrical hazards that can occur in the workplace.
The explosive force from an arc blast can exceed 100 kiloPascal (kPa), causing the expulsion of molten metal, equipment and debris with speeds of up to 300 meters per second.
What causes Arc flash?
An arc flash can often be caused by the following:
Contact between an energised conductor and another conductor
Equipment failure can also cause an incident
Human error by dropping un-insulated tools or metal parts
Using incorrect equipment and tools
Live work on damaged equipment
Loose connections and exposed live parts
Lack of awareness and training
The impact from an arc flash is dependent on a number of circumstances including:
The current that can flow in an arc
The length of the gaps between the conductive parts that are bridged by the arc
The chemical compositions of the conductors and the materials surrounding the arc
The distance between the worker and the arc
Injuries from an Arc Flash
Injuries from an arc flash explosion can very in severity from minor injuries, severe burns to the skin, internal damage, and blindness.
Hearing loss is another potential injury as sound waves from an explosion can reach 140 decibels. In a worst-case scenario, fatal burns can occur when the victim is within several feet of the arc explosion.
These severe injuries and potential fatalities can occur to both the individuals working on the electrical equipment and to any people located nearby.
Reducing an Arc Flash hazard
Isolating the power supply is not always possible so completely eliminating the arc flash hazard can be very difficult, but there are measures that can be implemented to reduce the possibility and severity of hazards.
The Health and Safety at Work Act 1974 is the primary piece of legislation covering occupational health and safety in the United Kingdom. Often referred to as the HSW Act it sets out the standards and approved codes of practice for employers, workers and anyone looking to understand safe working practices. Incorporated within the Act are a series of British, European, and International electrical standards and approved codes of practice.
The Health and Safety at Work Regulations 1999 specifies an obligation on behalf of the Employer to assess the level of risk involved in the workplace and the effectiveness of the precautions to be taken including arc flash hazards.
Who is at risk from an arc flash?
Staff training is of vital importance as human error can be a major contributor to injury or even death as a result of an arc flash. Individuals including electricians, electrical engineers, road workers and utility workers are susceptible to incidents at both high and low voltage while carrying out maintenance and testing activities.
How to minimise the risk of an arc flash
Carry out a risk assessment
Wear Arc Flash approved workwear and PPE
De-energize electrical equipment
Keep at a safe distance
Reduce the energy output from an incident
Staff training to control risks and interrupt faults
11 Things You Need to Know About Arc Flash Clothing
When should Arc Flash PPE be worn?
All arc clothing is rated to be effective against flame and arcs. In contrast not all Flame Retardant (FR) clothing is resistant to arcs. This is because arc resistant clothing insulates FR clothing from arc flashes.
Arc Flash clothing and PPE must be worn at all times when working in an environment at risk of an arc flash. At Clad Safety, we supply a full range of Arc Thermal Performance Value (ATPV) rated clothing that will provide the varying degrees of arc flash protection required. These range from flame resistant to flame retardant coveralls, trousers, tops, base layers, gloves, and helmets offering superior performance, innovation, and excellent value for money. View the full range of arc flash clothing here
It is vitally important to ensure that you do not wear non-arc clothing with arc clothing as this will hinder the performance and protection that arc flashing clothing is designed to provide.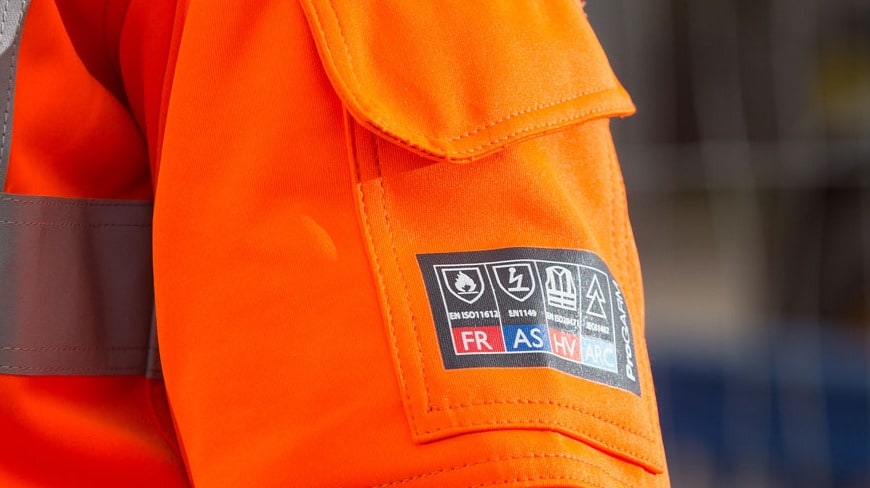 Arc Flash and Flame Retardant Workwear
Workwear and PPE is the last line of defence against hazards in the workplace therefore a range of garments have been designed to offer the highest levels of protection from an arc flash. Buying the correct arc flash clothing can feel overwhelming.
We, at Clad Safety, have listened to our customer's needs and obstacles they face at work and turned those problems into solutions. We have designed and manufactured three unique items of workwear designed to provide both comfort and protection for those individuals at risk of an arc flash in the workplace.
All arc flash clothing must have an arc thermal performance value (ATPV) and conform to the following safety standards
EN ISO 11612:2015 A1 A2 B1 C1 F1

EN 1149-5:2018

EN ISO 20471:2013

IEC 61482-2 2018
Arc Flash clothing designed by Clad Safety
Clad Safety has been operating for over 30 years and we take pride in the excellent service that we offer to our customers. To find out more on how Clad Safety can support your PPE needs please contact us on 0800 161 3661 or email [email protected]