What Is EN 397?
Approximately 142 people are killed while at work every year in the UK, with the third leading cause of death related to those 'struck by a moving object'. Head injuries are one such cause of this fatal injury type and can have devastating consequences for the worker involved, their site colleagues and wider families. Therefore, head protection remains an essential piece of personal protective equipment (PPE) wherever there is a risk of a sustaining head injury while at work.
The HSE outlines standards for all forms of workwear and PPE, to ensure that workers are protected from serious injury or death depending on the nature of their work, and anything which has the potential to cause a head injury is no exception. One of the main ES safety codes that applies to safety helmets or hard hats is EN 397.
To ensure compliance with HSE regulations and ultimately create a safer workplace, here is an overview of what EN 397 is, along with how EN 397 regulated safety helmets at work to protect all of those on site.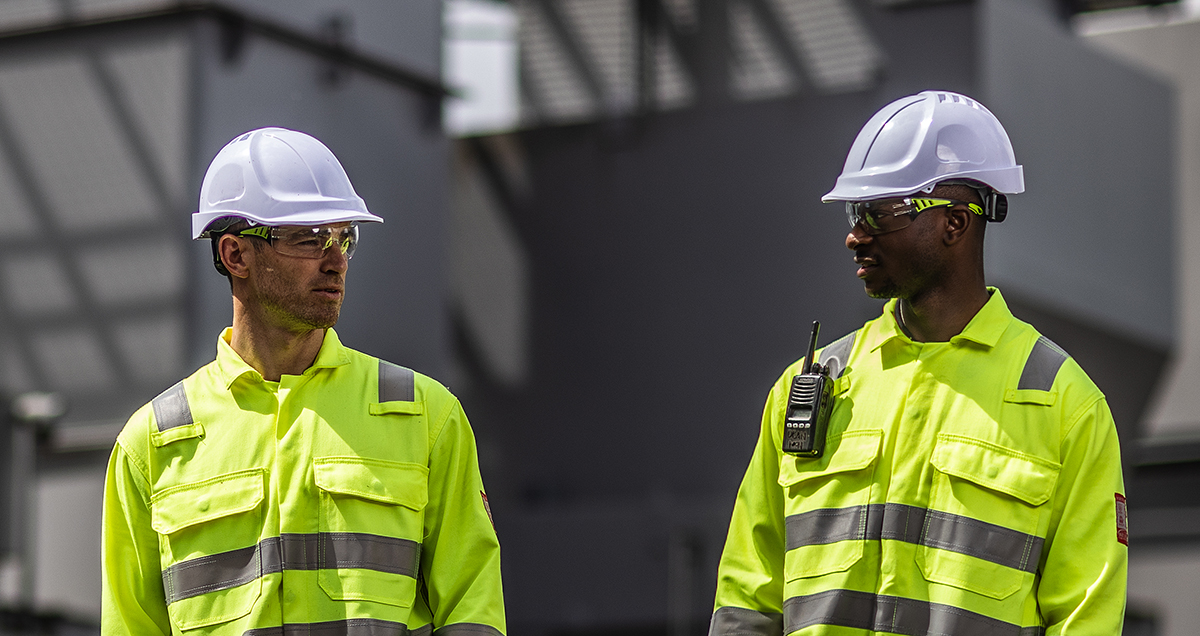 EN 397: An Overview
The official definition for EN 397 is 'specification for industrial safety helmets'.
For a safety helmet or hard hat to receive EN 397 certification, it must undergo several mandatory tests. Additional optional testing may also be applied to achieve the highest possible safety standards.
In tandem, this strict testing for EN 397 ensures that should a worker receive a reasonable level of force directed at the head, or even be in the path of a sharp object, their head will not receive the full force of the weight or pressure.
Reducing trauma to the head can make all the difference in avoiding death or serious injury, and it is the following testing stages which determine if the material and overall construction of the helmet can provide this level of protection.

Image credit https://centurionsafety.eu/advice/introduction-to-en-397/
Mandatory Tests For EN 397
Impact/shock absorption – As EN 397 applies to industrial safety hazards, many tests are carried out using a fixed head form with a falling mass striker directed at it. A mass of 5kg is dropped from a height of 1 metre, and the force the head form receives is then calculated. To pass the test, the maximum transmitted force cannot exceed 5 kN. Several helmet samples are assessed, and various factors are applied including low and high temperatures, water immersion and UV ageing. Manufacturers may also expand on any of these values if looking to guarantee a superior performance that exceeds the recommended standards.
Penetration – EN 397 industrial safety helmets are tested to account for not just the weight of the object, but sharp or pointed objects which can penetrate the surface of the head protection when dropped from a height, due to speed increasing the mass of the object. A 3kg striker is used to determine if contact has been made with the head form underneath the helmet. Various testing conditions relating to temperature, water immersion and UV ageing also apply.
Chin strap attachment: Releases at minimum 150N and maximum 250N for safety.
Flame resistance – When exposed to a flame for 10 seconds, the shell of the safety helmet must not set alight.
Regulatory marking compliance – EN 397 safety helmets must state that they are compliant with the standard via visible mouldings within the helmet. This ensures site managers and employees alike are wearing the correct level of protection. As well as EN 397, the helmet must state the name of the manufacturer, the year and quarter of production, type of helmet (this must also be visible on harness), size of helmet and the shell material.
Optional Tests For EN 397
● Electrical properties
● Lateral deformation
● Molten metal splash
● Very low temperature (up to -40°C)
● Very high temperature (up to 150°C)
Also see: What Is EN 443?
Hard Hats And Safety Helmets: What You Need To Know
The HSE states that hard hats must be provided for workers and any visitors to your site. While hard hats or safety helmets are mostly associated with construction sites, any type of site or work that has the potential for head injuries requires employees to wear head protection.
In addition, EN 397 is also a requirement with chainsaw personal protective equipment, including those involved in tree surgery or forestry work.
HSE safety helmets requirements also include:
● Hats are worn at all times where risk of injury is present
● Hats are in good condition
● The hat fits the person wearing it ensuring it is worn properly
● The hat allows for the wearing of ear defenders when necessary
● The head protection has been obtained from a reputable supplier (i.e. Clad Safety)
Finding A Comfortable Hard Hat For Ground Work
When buying workwear and PPE for a large team, we appreciate it can be difficult to accommodate different needs and even attitudes towards safety gear. However, it is of the utmost importance that workers wear head safety helmets when required, and site managers need to be instrumental in showing the best example.
We can of course advise on any matters relating to choosing the right safety equipment depending on the application or environment, whether this is in relation to head safety or other forms of safety or PPE.
Head Protection Types & Features
● EVO®5 DualSwitch™ head protection
● EVO® VISTASHIELD™ Dualswitch™
● Vented helmets
Shop all Clad Safety head protection.
Clad Safety Hard Hats & Safety Helmets – Workwear And PPE Supplier
In search of EN 397 compliant safety helmets for your organisation? Clad Safety stock a wide range of safety helmets and hard hats from the leading brands including JSP and Centurion.
Geared towards procurement managers, health and safety managers and buying teams from large organisations, Clad Safety serves various industries including Construction, Rail and Utilities.
Need any further help on anything we've mentioned above? Clad Safety is a UK-based workwear and PPE supplier. Give us a call today on 0800 161 3661 or email us at [email protected] for further information.